SILVER SURFER IN THE RUINS OF DETROIT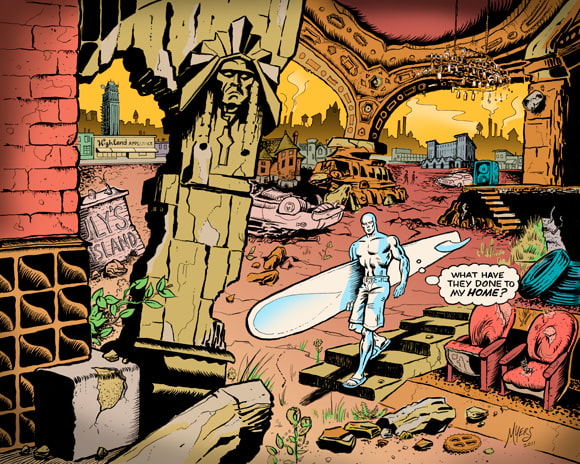 © copyright 2012, 2014 Kent Myers
16" x 20" (20" x 24" paper) FINE ART GICLEE $100
BEHIND THE ART
"Silver Surfer in the Ruins of Detroit" is based on a panel in the first issue of Silver Surfer from 1968, a nice splash panel by John Buscema & Joe Sinnot that I redrew in the Detroit style, with some Mighty Marvel. The image is filled with actual Detroit ruins icons like the Michigan Theater, Train Station, Book Cadillac, Livingstone House and Highland Appliance along with possible future ones like the Penobscot Building and Duly's Coney Island. The drawing is signed 2011 when I finished the inks. The colored version was finished in early 2012 and these Fine Art Giclees are all new for 2014.
The dialog from the original comic reads: "Here amongst these ruins once rose a city prosperous and proud. Now, all that remains is crumbling rubble—and the dismal sight of slow decay! On Earth, as in every corner of the endless universe civilizations grow, enjoy their brief moment of glory only to sink into the dust once more." The surfer could have been talking about Detroit... with it's increasingly popular ruins identity, this was a natch.
ABOUT THE PRINT
For a limited time I'm offering this outstanding museum-quality fine art giclee print for sale. Archival to 200 years. Super heavy 100% cotton paper and archival inks. The image is 16 x 20 inches on paper measuring about 20 x 24 inches. Amazing detail and colors. Price includes shipping within the US. Contact me.
Giclee is a French word (Jee-Clay) meaning fine art ink jet print. They can be printed on heavy cotton fine art archival paper, the same paper used for lithographs. The inks are also archival and in a way, giclees are like a modern lithograph. The printers are similar to a consumer ink jet printer, although much higher quality. The machine used for these prints is a 12 color thermal pigment printer, giving the prints a much broader color range than traditional offset (CMYK) printing. Giclees are often used for museum prints and photographs as the quality is near traditional chemical photo processing.
DETAIL PHOTOS OF THE PRINT