Specious Species #9 poster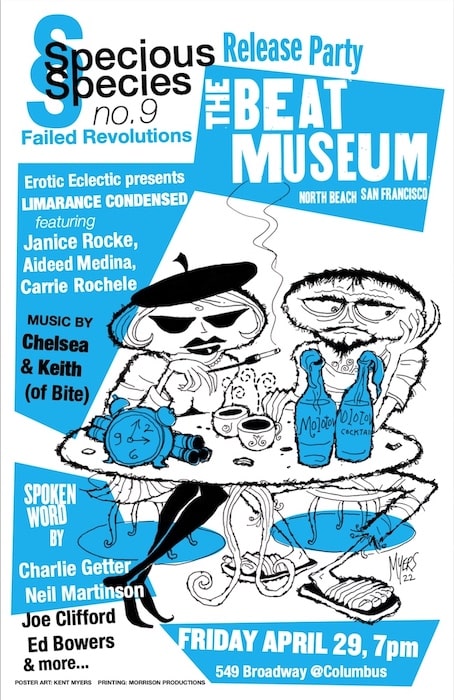 © copyright 2022 Kent Myers
12" x 18" LIMITED EDITION SILKSCREEN $50 +shipping
BEHIND THE ART
Specious Species #9 Release Party at the Beat Museum is a silkscreen poster by Kent Myers. The event was held in April 2022, feeling like one of the first such public gatherings post covid in San Francisco. For this reason the artwork was featured in Kent Myers' solo art show of pandemic work at Sweeties Art Bar in October of 2022. Specious Species is a culture print magazine created by Joe Donohoe available online at speciousspecies.net. The theme of this issue was failed revolutions and includes more of Myers' artwork with a 2-page comic history of the Weather Underground. "Since the event was held at the iconic Beat Museum in North Beach, I wanted to do a 'beatnik' style illustration. My inspirations included Rolly Crump's original artwork from the late 1950s, monster cartoons of the 50s/60s by Roth, Mouse, and Campbell, as well as Ed Fotheringham's modern interpretation of the period. Coloring & typography were inspired by jazz album artwork of the era."
ABOUT THE PRINT
Very limited edition silkscreen print. Using the world's most sophisticated machinery with constant adjusting and hand-tweaking, we create these beautiful masterworks archival to 200 years. Super heavy 100% archival paper and inks. Prints may have slight variations and imperfections characteristic of the process. You're buying a unique work of art suitable for framing and proudly displaying in your home or business. 12 x 18 inch poster size with about 1" margin around the art. Contact me for more info.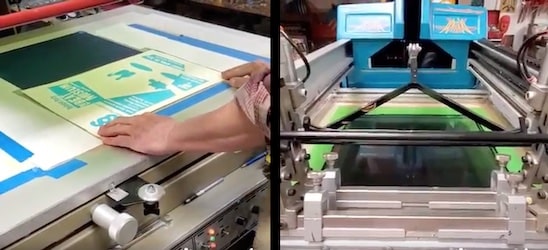 Our silkscreen prints are the highest quality with mind-blowing detail, color and craftsmanship!