Waikiki Walkups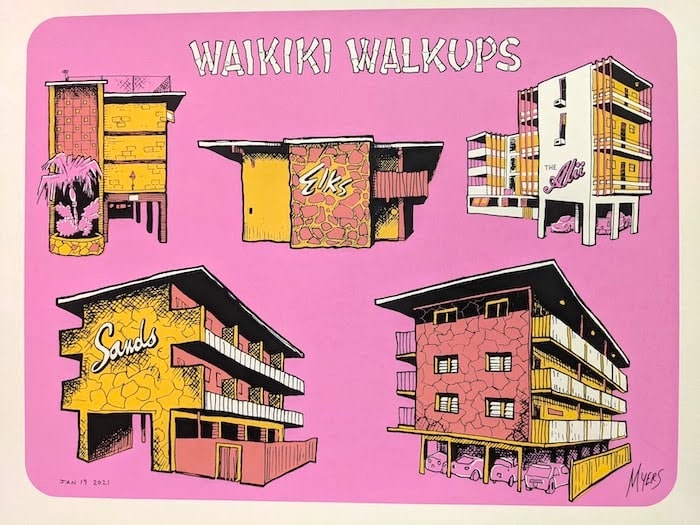 © copyright 2021-2022 Kent Myers
16" x 20" LIMITED EDITION SILKSCREEN $50 +shipping
BEHIND THE ART
Waikiki Walkups is a composition of sketchbook drawings by Kent Myers. The Honolulu neighborhood of Waikiki is filled with these beautiful, old apartment buildings called "walkups" because they lacked elevators. Built in the 1950s by Los Angeles developers, these structures merge classic west coast and tropical vacation styles into something uniquely Waikiki. Large, overhanging eaves, lanais (balconies), natural stone and lava rock facing, integrated parking and flashy logos in vacation-themed fonts are among the common features. This artwork is related to Chop Shop and was printed together with it, united by the colors. The neighborhood decay depicted in Chop Shop drove me to the getaway island retreat—a Yin and Yang of life forces during covid, emerging from lockdown.
ABOUT THE PRINT
Limited edition of 51 silkscreen prints. Using the world's most sophisticated machinery with constant adjusting and hand-tweaking, we create these beautiful masterworks archival to 200 years. Super heavy 100% cotton paper and archival inks. Each print exhibits slight variations and imperfections characteristic of the process. Each one is a unique work of art you'll want to frame and proudly display in your home or business. 12 x 16 inch image on 16 x 20 inch paper. Contact me for more info.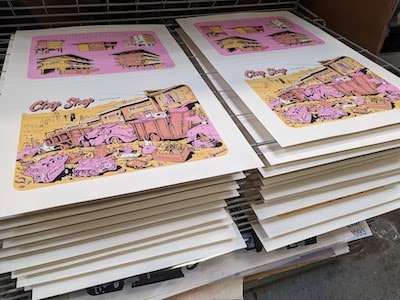 Our silkscreen prints are the highest quality with mind-blowing detail, color and craftsmanship!