Chop Shop
© copyright 2022 Kent Myers
16" x 20" LIMITED EDITION SILKSCREEN $50 +shipping
BEHIND THE ART
Chop Shop is a pandemic-era drawing by Kent Myers about the growing homelessness crisis in San Francisco. Our neighborhood filled up with people living in their vans right when covid lockdown began and the encampment grew to more than 100 vehicles. The city created an official VTC in the area to hold vehicle-dwelling families, and as the camp was cleared out, this chop shop moved in. They stayed for about a month and at night, driving home, it would be bright as day with the whole street lite up by industrial lamps, and a crew of workers breaking down and sorting all types of mechanical equipment. Cars were cannibalized out in the open, while the daily news focused on covid and getting your catalytic converter slolen. Pretty weird. Out of towners were constantly victims of smash & grabs which suddenly seemed legal. It was like living in a Mad Max movie.
ABOUT THE PRINT
Limited edition of 51 silkscreen prints. Using the world's most sophisticated machinery with constant adjusting and hand-tweaking, we create these beautiful masterworks archival to 200 years. Super heavy 100% cotton paper and archival inks. Each print exhibits slight variations and imperfections characteristic of the process. Each one is a unique work of art you'll want to frame and proudly display in your home or business. 12 x 16 inch image on 16 x 20 inch paper.Contact me for more info.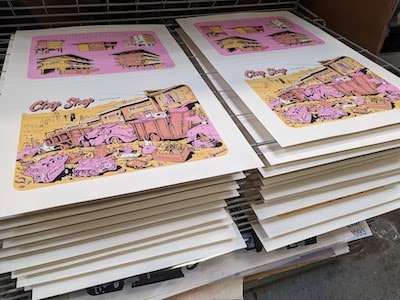 Our silkscreen prints are the highest quality with mind-blowing detail, color and craftsmanship!