THE COMIC STORE, 1966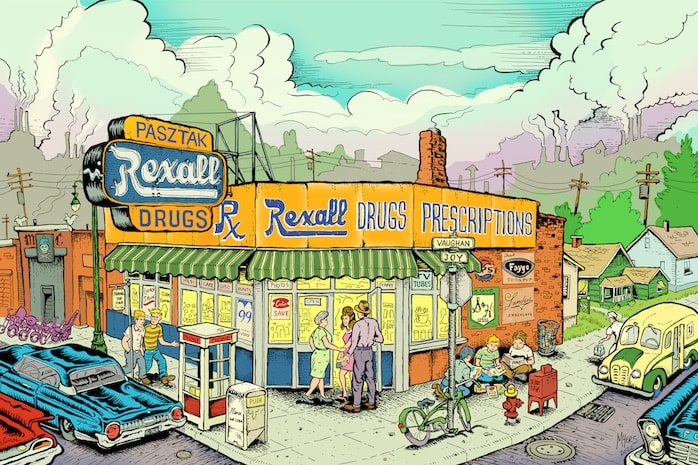 © copyright 2022 Kent Myers
20" x 28" FINE ART GICLEE $200
BEHIND THE ART
"The Comic Store, 1966" is a new drawing by Kent Myers, the scene of my childhood on the west side of Detroit on Vaughan St & Joy Road. Down the street from us was Rexall's which was like a general store. Right by the entrance were rotating comic book racks responsible for my early love of comics. Going there with 12 cents was a real highlight. The year is 1966. A year later the Detroit riots would hit and shortly afterward we moved a few miles further away from the city center. I am pictured in front with blonde hair along with a couple friends who used to read & exchange comics in the alley. My mother & grandparents are walking into the store and two of my brothers are playing hooky from school and walking past the store. Our house in green is shown on Vaughan street and survived another 50 years before being torn down in 2020. The Rexall building is still standing, although now a liquor store of course, and the motorcycle clubhouse still exists at this same location on Joy road. The Twin Pines milkman was part of our daily routine which has long passed along with S&H trading stamps, TV tubes and phone booths. This artwork was debuted at Kent's solo art show, at Sweeties Art Bar in San Francisco, in October, 2022.
ABOUT THE PRINT
For a limited time I'm offering this outstanding museum-quality fine art giclee print for sale. Archival to 200 years. Super heavy 100% cotton paper and archival inks. The image is 16 x 24 inches on paper measuring about 20 x 28 inches. Amazing detail and colors. Price includes shipping within the US. Contact me.
Giclee is a French word (Jee-Clay) meaning fine art ink jet print. They can be printed on heavy cotton fine art archival paper, like these, the same paper used for lithographs. The inks are also archival and in a way, giclees are like a modern lithograph. The printers are similar to a consumer ink jet printer, although much higher quality. The machine used for these prints is a 12 color thermal pigment printer, giving the prints a much broader color range than traditional offset (CMYK) printing. Giclees are often used for museum prints and photographs as the quality is near traditional chemical photo processing.