Exorcist Lounge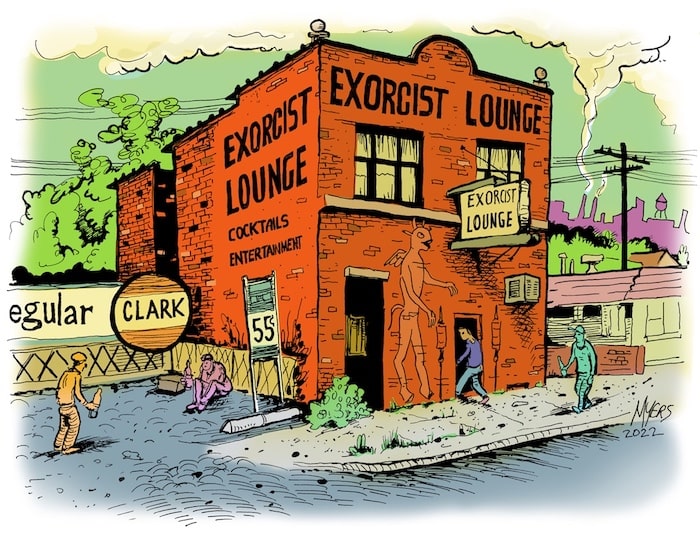 © copyright 2023 Kent Myers
16" x 20" FINE ART GICLEE $150
BEHIND THE ART
"Exorcist Lounge" is a drawing by Kent Myers showing a somewhat typical neighborhood scene in Detroit during the mid-70s a few years after The Exorcist film was released. Rendition of a photo from the Detroit Insitute of Arts, credited to American photographer James Pearson Duffy, 1923 - 2009. The location on Conant street north of Hamtramck is about a half mile north of Buddy's Pizza. The building is gone now, but as of 2023 the gas station remained along with the neighboring building in the illustration, remodeled, at 18035 Conant. I couldn't find anyone who remembers ever seeing this bar.
ABOUT THE PRINT
For a limited time I'm offering this outstanding museum-quality fine art giclee print for sale. Archival to 200 years. Super heavy 100% cotton paper and archival inks. The image is 12 x 16 inches on paper measuring about 16 x 20 inches. Amazing detail and colors. Price includes shipping within the US. Contact me.
Giclee is a French word (Jee-Clay) meaning fine art ink jet print. They can be printed on heavy cotton fine art archival paper, like these, the same paper used for lithographs. The inks are also archival and in a way, giclees are like a modern lithograph. The printers are similar to a consumer ink jet printer, although much higher quality. The machine used for these prints is a 12 color thermal pigment printer, giving the prints a much broader color range than traditional offset (CMYK) printing. Giclees are often used for museum prints and photographs as the quality is near traditional chemical photo processing.