Candlestick Trailer Home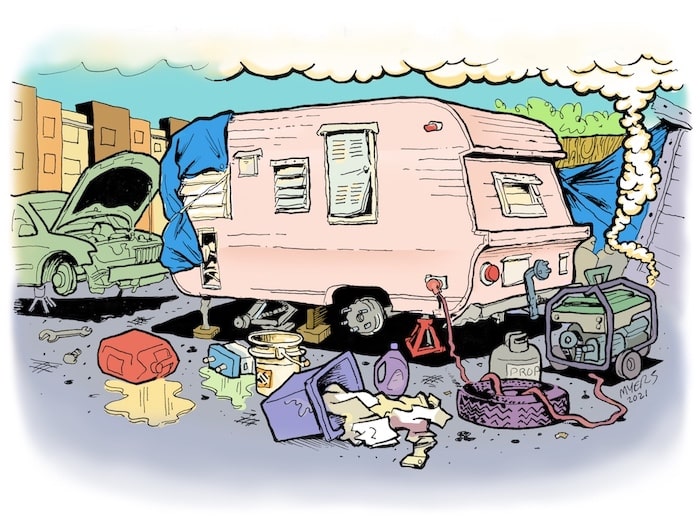 © copyright 2022 Kent Myers
16" x 20" FINE ART GICLEE $150
BEHIND THE ART
"Candlestick Trailer" is a new drawing by Kent Myers, depicting another scene at the former site of the San Francisco 49ers football stadium, Candlestick park. During the covid pandemic (March 2020) the area filled up with vehicle inhabitants turning the place into one of the worst slums ever seen. This cartoon illustration softens the blow, but people had literally constructed homes out of trash. 3 years later, many are still here. San Francisco rents are among the highest in the nation, but many people don't know that it's perfectly allowed to live in your vehicle anywhere on a street for years. So forget about expensive trailer park fees, bring your mobile home here and homestead your own slice of paradise. This artwork was debuted at Kent's solo art show, at Sweeties Art Bar in San Francisco, in October, 2022. The show featured artwork created during the Covid pandemic and commentary on its effect on the city.
ABOUT THE PRINT
For a limited time I'm offering this outstanding museum-quality fine art giclee print for sale. Archival to 200 years. Super heavy 100% cotton paper and archival inks. The image is 12 x 16 inches on paper measuring about 16 x 20 inches. Amazing detail and colors. Price includes shipping within the US. Contact me.
Giclee is a French word (Jee-Clay) meaning fine art ink jet print. They can be printed on heavy cotton fine art archival paper, like these, the same paper used for lithographs. The inks are also archival and in a way, giclees are like a modern lithograph. The printers are similar to a consumer ink jet printer, although much higher quality. The machine used for these prints is a 12 color thermal pigment printer, giving the prints a much broader color range than traditional offset (CMYK) printing. Giclees are often used for museum prints and photographs as the quality is near traditional chemical photo processing.