DOLPHIN CLUB 1896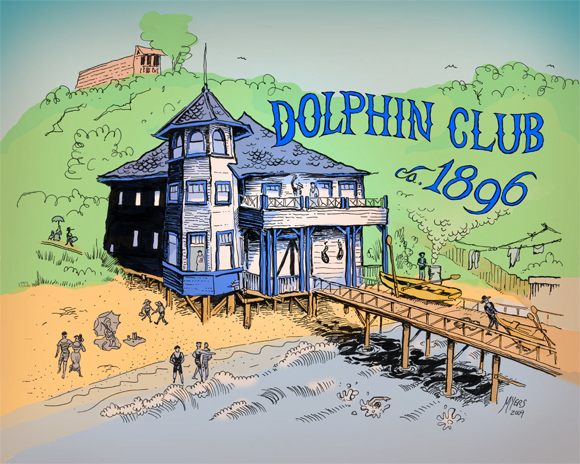 © copyright 2009-2014, Kent Myers
16" x 20" (20" x 24" paper) FINE ART GICLEE $100
BEHIND THE ART
This image was drawn from a photo given to me by Walt Schneebeli (Dolphin Club historian and beloved Old Goat). It's a clear image and amazing to see the clubhouse 120 years ago! The building was at the other end of the cove, a block away near where I park my car, but it is the same building and familiar hillside we see now.
There weren't any people in the photo so I populated the scene with some members supposedly on a summer weekend with the nice weather bringing out friends & family, lovers, kegs & oars. It would have been tough without a sauna and hot shower so I threw in a trash can fire that the swimmers could use to warm up, next to what appeared to be clotheslines for drying their gear. Aside from the sauna I suppose club life then was pretty much the same as today, with beachgoers gathering to swim, row, eat and drink.
The image is a pen & ink sketchbook drawing from 2009. I colored and experimented with large format prints and mounted plaques for a few years and several one-of-a-kind pieces made their way into collections. These Fine Art Giclees are all new for 2014.
ABOUT THE PRINT
For a limited time I'm offering this outstanding museum-quality fine art giclee print for sale. Archival to 200 years. Super heavy 100% cotton paper and archival inks. The image is 16 x 20 inches on paper measuring about 20 x 24 inches. Amazing detail and colors. Price includes shipping within the US. Contact me.
Giclee is a French word (Jee-Clay) meaning fine art ink jet print. These are printed on heavy cotton fine art archival paper, the same paper used for lithographs. The inks are also archival and in a way, giclees are like a modern lithograph. The printers are similar to a consumer ink jet printer, although much higher quality. The machine used for these prints is a 12 color thermal pigment printer, giving the prints a much broader color range than traditional offset (CMYK) printing. Giclees are often used for museum prints and photographs as the quality is near traditional chemical photo processing.
DETAIL PHOTOS OF THE PRINT