BOOKIES, DETROIT 1979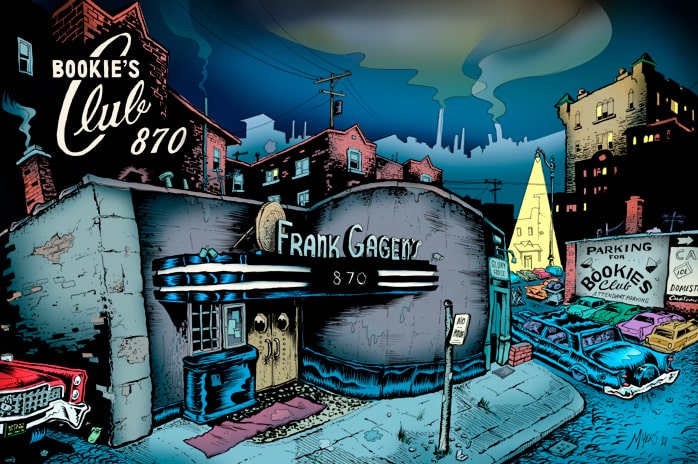 © copyright 2014 Kent Myers
20" x 28" FINE ART GICLEE $150
BEHIND THE ART
"Bookies, Detroit 1979" Is a new drawing by Kent Myers, a rendition of the scene at Detroit's famous early punk rock nightclub (and parking lot) at the height of the era. From Wikipedia: "Bookie's Club 870, also known as simply "Bookie's" was a pivotal location for the development of an original alternative music scene in Detroit from early 1978 through 1981. Bookie's was Detroit's first and, for a while, only concert club for original rock bands". I was there for a lot of the Denizens' shows, known to play in the very first show at Bookies. Thanks to Rick Metcalf, Sue Rynski, Scott Campbell and Mike Murphy, among others who provided valuable assistance in reconstructing the scene as the original Bookies building has been wiped clean from the face of Detroit's landscape for many years.
ABOUT THE PRINT
For a limited time I'm offering this outstanding museum-quality fine art giclee print for sale. Archival to 200 years. Super heavy 100% cotton paper and archival inks. The image is 16 x 24 inches on paper measuring about 20 x 28 inches. Amazing detail and colors. Price includes shipping within the US. Contact me.
Giclee is a French word (Jee-Clay) meaning fine art ink jet print. They can be printed on heavy cotton fine art archival paper, like these, the same paper used for lithographs. The inks are also archival and in a way, giclees are like a modern lithograph. The printers are similar to a consumer ink jet printer, although much higher quality. The machine used for these prints is a 12 color thermal pigment printer, giving the prints a much broader color range than traditional offset (CMYK) printing. Giclees are often used for museum prints and photographs as the quality is near traditional chemical photo processing.
DETAIL PHOTOS OF THE PRINT